Women Faculty at UW
The UW ADVANCE Center for Institutional Change was created in 2001 with a first-round National Science Foundation (NSF) ADVANCE Institutional Transformation (IT) grant. The NSF ADVANCE Program strives to increase the participation of women in academic science, technology, engineering and mathematics (STEM) careers through systemic solutions. Women faculty representation in UW ADVANCE departments at UW has increased significantly since we began in 2001.
In addition to a broader suite of faculty professional development resources, UW ADVANCE also offers specific activities and resources for our women faculty such as the Mentoring-for-Leadership lunch series, the ADVANCE Lactation Room, and individual support such as meeting with female faculty during interviews and after arrival on campus to provide work/life integration and career advice.
Women Faculty Data
Every other year, UW ADVANCE collects data to track the number of women faculty in 19 ADVANCE departments at the University of Washington, including 9 science units and 10 engineering units.
Women Faculty Representation at UW
Since the inception of UW ADVANCE (2001-2015), there has been a:
93% increase in number of tenured or tenure-track women faculty (58 to 112).
115% increase in College of Engineering female faculty (26 to 56).
75% increase in Science & Environment Departments' female science faculty (32 to 56).
Increasing Representation in 19 ADVANCE Departments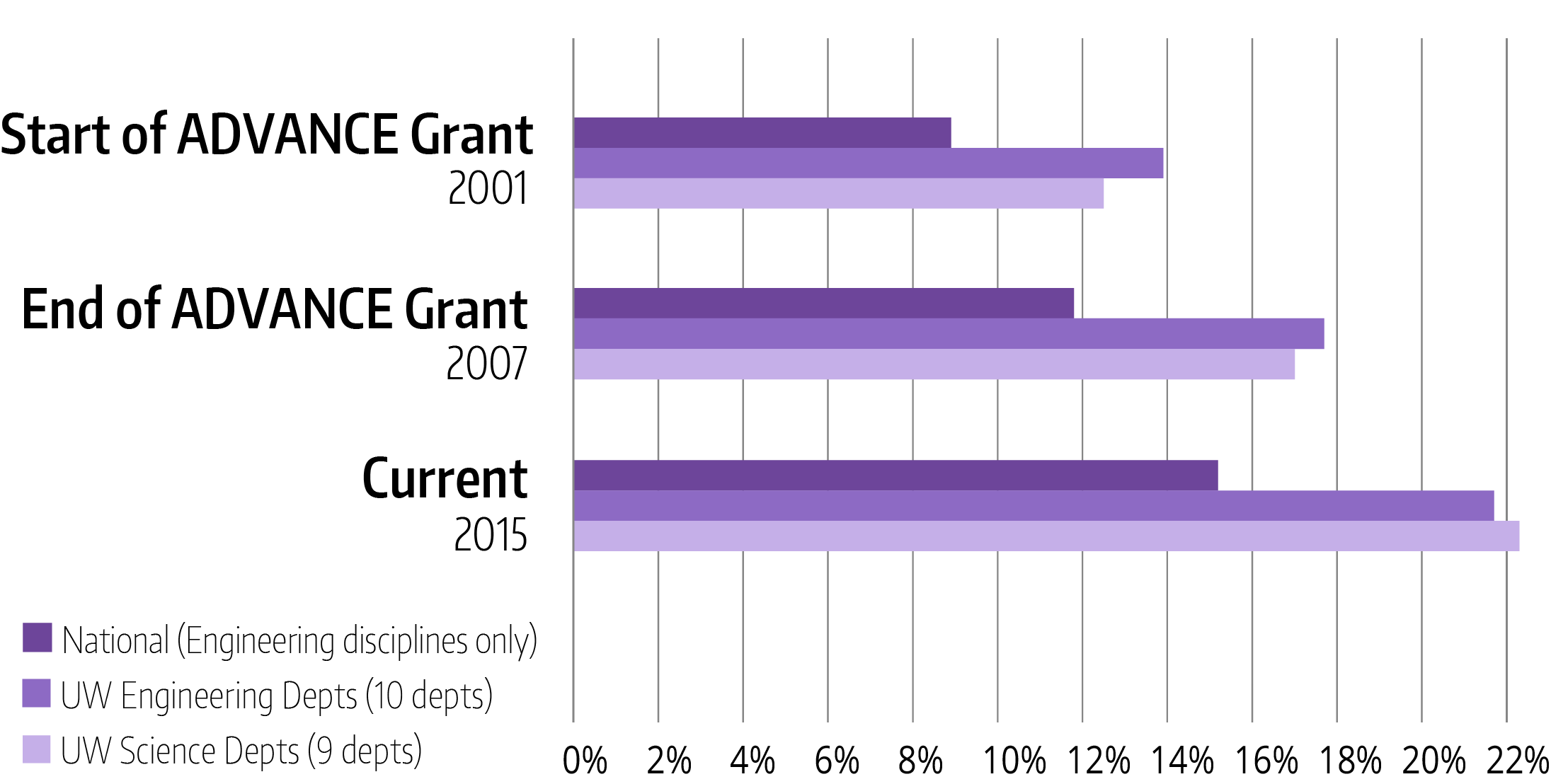 The National Scene
At 22.2% University of Washington has the highest percentage of female faculty representation in the top 25 Colleges of Engineering (2015 ASEE Engineering by the Numbers).
Female Tenure-Track Engineering Faculty by Institution