Evaluation Plan
LATTICE attendees are asked to share information from their application, complete a short feedback survey at the LATTICE symposium, and take annual web-based surveys in order to assess the outcomes and impact of LATTICE. Additionally, all LATTICE program applicants are invited to complete two follow-up brief surveys about their career progression, two years and four years from now. Participation in the evaluative research is voluntary. Applicants are not obligated to participate in the program evaluation activities, and an individual's decision not to participate will not preclude her from being selected as a participant. All data will remain confidential in evaluation reports.
Evaluation of LATTICE I
Image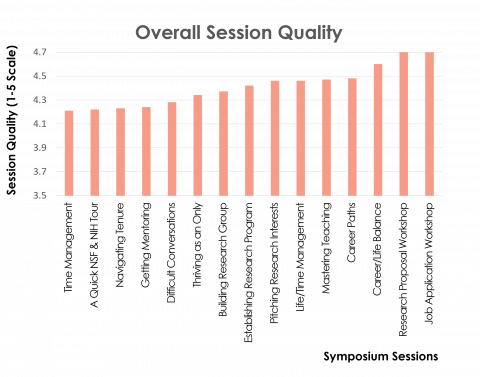 100% of respondents would recommend the symposium to others.
The symposium EXCEEDED EXPECTATIONS.
Panelists and participants alike reported feeling REJUVENATED and RECOMMITTED to their work and scientific community.
Many attendees anticipate the symposium experience will continue to SHAPE THEIR CAREERS for years to come.